Computer Blue Screen Repair Malaysia
Looking for computer blue screen repair Malaysia? We, at MyComputer Repair, do computer blue screen repair for laptops and personal computers (PC).  If you want to get your computer repaired, send it over to us and we will get it done for you. Contact us now to get a free estimate and we are ready to assist you. For computer repair services in Malaysia, just count on us to get your computer repaired to tip-top condition satisfactorily and quickly.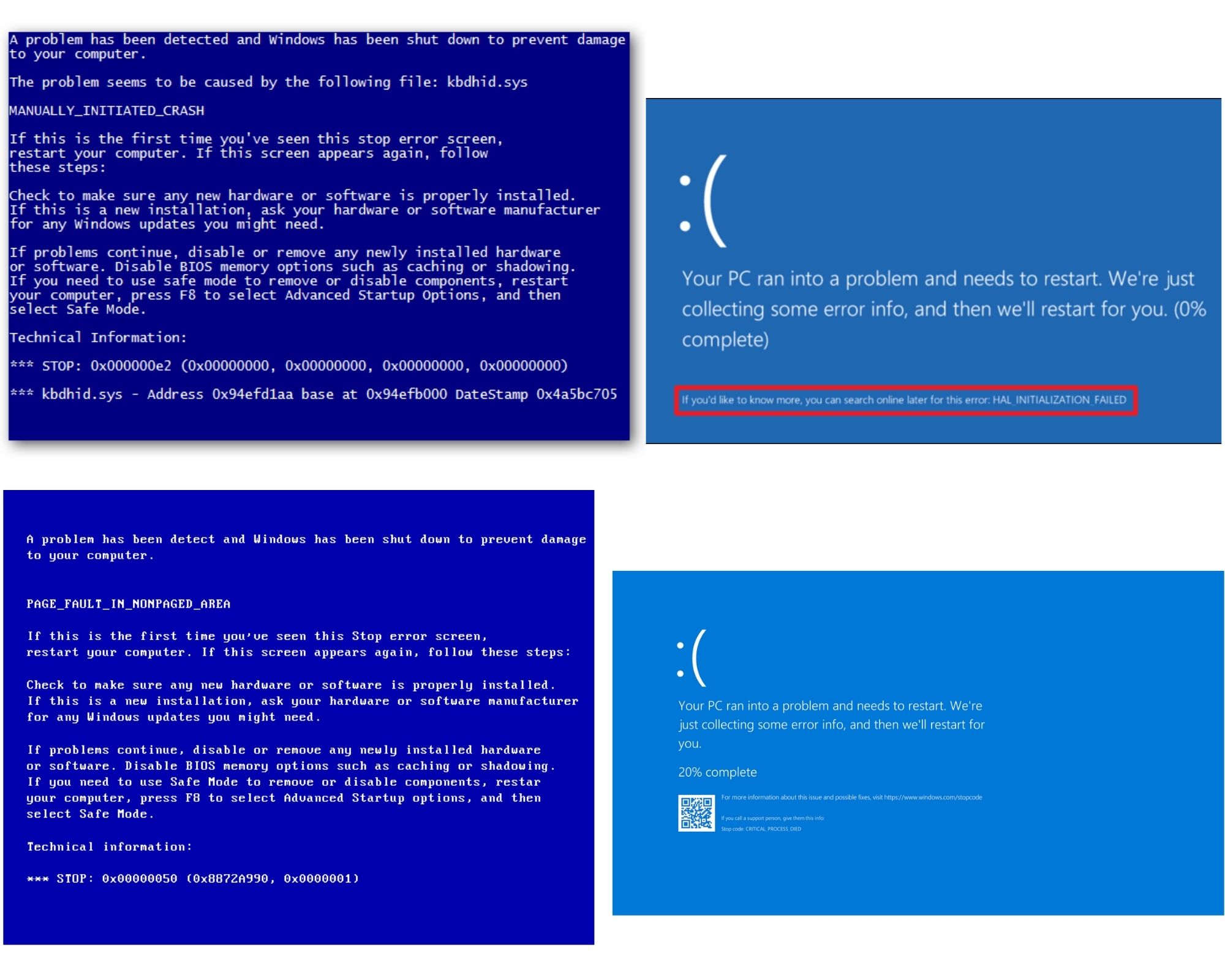 Computer Blue Screen Problem and Repair Service
Computer blue screen is one of the most common PC problems out there. Computer Blue Screen is a common phenomenon that is caused by different reasons. In general, we can say that it  happen when Windows or a process stops responding, crashes or freezes. The causes of the blue screen can be different from one computer to another. For example, the blue screen shows up when a driver encounters a problem, when a computer virus starts to attack, when a malfunctioning hardware component affects the computer's ability to process data, or when a hardware driver fails to respond properly to a command from the computer's processor.
Blue Screens are some of the most common computer problems but they are also some of the more difficult problems to troubleshoot.   A blue screen is known as a STOP error message.  When the blue screen appears this can be caused by a hardware or software problem.  The blue screen will display the STOP code indicating what caused the problem.  This STOP code will be a number on the blue screen.  There are hundreds of blue screen errors with different numbers.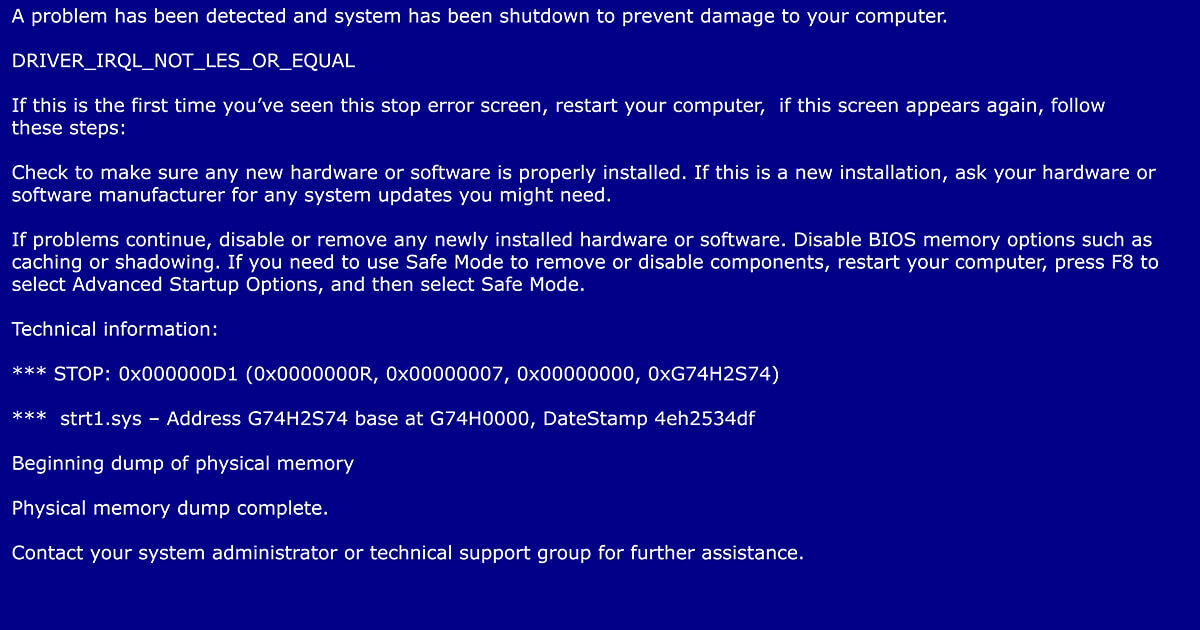 Computer blue screen issues are usually caused by hardware or software. If your computer blue screens often, it could be caused by a driver conflict, or a hardware error. In some cases, the blue screen itself can cause data loss or a computer freeze. To resolve the problem, you will need to determine the cause of the blue screen, and then remove it.
If blue screens are caused by hardware issues, for the most part, the issues that cause blue screens are due to driver issues. Driver issues are usually due to corrupt drivers or outdated drivers. Computer Blue Screen is a serious issue for computers that are used to run your business. Most computer blue screen problems are able to be fixed, but it is important to not delay fixing them. If your business is affected by computer blue screen issues, it is important to protect yourself.
A blue screen is an error screen displayed by a Windows-based operating system such as Windows XP, Windows Vista, and Windows 7. In Windows, a blue screen is also called a stop error, because it indicates that the system is stopping abnormally; a blue screen is one of many types of non-gratifying failures. A blue screen can be caused by hardware, software, or a combination of both. Once the screen appears, the only thing you can do is wait until the computer is ready to work.
In the history of computer technology, the blue screen of death (or BSoD) is a common error mode displayed by the computer operating system (OS) when it encounters a fatal problem. The name comes from the combination of a blue screen and a message that indicates the computer (or operating system) has crashed. The text of the message usually includes the reason for the crash, such as "unable to locate boot device" or "Blue screen of death".
Anyway, for computer blue screen repair services, just bring it to us at MyComputer Repair and we will do all the repair work for you. Contact us at +60193599420 now and we are ready to assist you. Alternatively, you may also click on the GREEN Whatsapp button on the bottom right of the page to Whatsapp us.  
Satisfactory Repair Services
MyComputer Repair is a specialist when it comes to repairing computers because we have successfully repaired many computer, laptop, and phones throughout the years. There is no computer malfunction problems that we can't solve.
Efficient Repair Services
We have solved and repaired many computer problems and returned them to the customers within the promised timeframe. We are proud to say that we are never late in delivering repaired computers, laptops and phones back to the clients.
Affordable Repair Services
Our charges for computer repair services have been affordable and that has kept customers coming back to us for more computer repair services because they know that we are honest and we do not simply charge unjustified exorbitant rates. Our customers are very satisfied and happy with our computer repair charges.
Qualified and Professional Technicians
Our technicians are qualified and well trained to do computer repair jobs. They have gone through rigorous training before they are officially hired by us. Hence, you can be assured that your computers, laptops and electronic devices such as phones that need repair are in good capable hands. We will get your device repaired, don't worry!
Trusted and Honest Technicians
The technicians at MyComputer Repair are honest workers who do repair jobs with dedication and professionalism. Do not worry that your data will be stolen or copied because we have a very stringent hiring process and a very tight CCTV security camera area where the technicians operate. Furthermore, these technicians have a very good track record and they have been with us for years since the company was established.
Good Track Record
MyComputer Repair is an established computer repair company with good track record throughout the 5 years in Kuala Lumpur and Petaling Jaya. We have served many customers with dedication, responsibility and professionalism. Many customers in the Klang Valley have also become our repeat customers and they have come back to us with their faulty computers for us to repair. With our good track record, you can be confident that we can repair your computers.
FAQ
Frequently Asked Questions(FAQ)
How do I request for a technician?
You can call or Whatsapp us at +60193599420 to request for a quote. Alternatively, you can also fill up our contact form on the website. Fill up your name, email, contact number and state your laptop, computer or phone problem. Then we will give you a quote. You can then decide whether to hire our service.
What kinds of repair services do you do?
We do a wide range of computer repair services ranging from laptop and desktop computer repair services to Apple Macbook repair and even phone repair services as well. We fix hardware problems, software problems, remove viruses and malware, do data recovery, do hardware and software installation services, do computer performance upgrade services, fix networking issues and lots more. Just send your devices to us and we can fix them!
How long will you take to fix my computer?
The duration to fix the computer depends on the severity of the problem and we need to assess and diagnose the problem of your device before we can advise how long it will take for us to repair it. It also depends on the number of devices in hand that we have to repair for other clients, hence we can only advise you the timeframe for certain after you have contacted us via call or WhatsApp and after we have assessed the problem of your device.